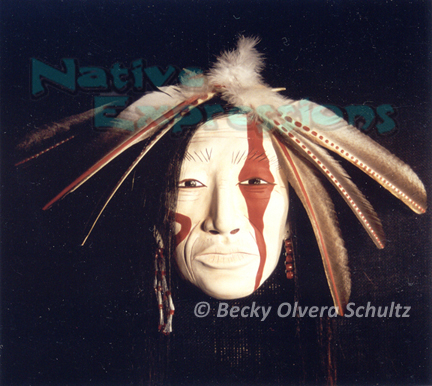 Many years ago I created a clay/mixed media Native American art mask that I really loved, loved more than many of my other creations. I named the piece Stands Firm. I eventually sold this mask to the Heard Museum Store in Phoenix, Arizona. I was happy to sell to the museum store but sad to let the piece go. I photograph all my art creations and started playing around with a photograph of Stands Firm. I kept wishing that maybe I should have kept Stands Firm for my own private collection. I decided to give that work of art a continued life by converting it's image to black and white creating a different version but basically the same. Someone suggested I print that image on a T-Shirt. I decided to print the image on a black shirt to maintain the striking contrast of the black and white version.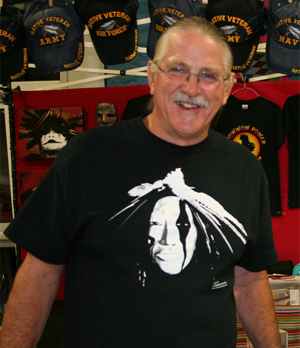 So I purchased some heavy weight, 100% cotton and preshrunk good quality shirts and went about finding a printer. I didn't print a lot because after all, this was only an experiment. At that time I primarily featured my art in galleries, open studios and a few art shows, most of which were not interested in T-Shirts.
So here I was with a big box of nice black T-Shirts with a good quality screen print in white on the shirt. At the time I didn't have an online store, only an art website. My husband thought the shirts were nice and proceeded to put one on and head for work. Later that day he came home and said he had gone to the local lumber company and had been approached by an employee who said, "That's a great looking shirt." To which my husband said, "It's my wife's artwork." The employee then asked if he could buy one.
That's when I realized that I had a great wearable and affordable piece of art that both native and non-native people would like. So, many years later, the image of the mask I regretted selling has continued to live on as my number one selling item especially when I am a vendor at powwows and art shows.
Stands Firm can be ordered at Native-Art-Gift-Shop.Com